You'd rather read than run, right?
But if running's your thing, or you're thinking you might want to make it your thing, I have a couple of inspirational books that will help get you out the door and around the block.
Now that it's February, and spring is still a dream on the horizon, I find I'm need of a little inspiration and motivation to keep me on track to attain my exercise goal.
[Note: my exercise goal is to exercise. (I'm keeping the parameters loosey goosey, so that, if I don't happen to make it out of the house on a particular day, I can convince myself that several trips up and down the stairs to refill my tea mug counts as exercise.)]
I have a sign on my bulletin board that says:
"Ninety percent of endurance is mental and the other 10 percent is all in your head."
I take this to mean that if some days I only get so far as imagining myself exercising, it somehow counts. I might be interpreting it wrong.
Anyway. When I am in need of some athletic inspiration, there are two great books I turn to: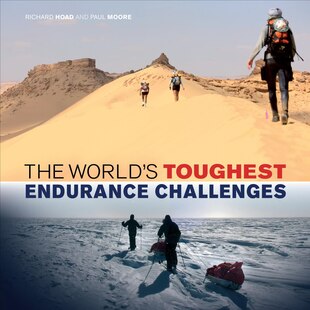 The World's Toughest Endurance Challenges is guaranteed to make you go WTF? It's like a group of bored marathoners and iron-men/women got together over a couple of beers or six, and said, "What is the most crazy-assed endeavour we can put our bodies through? I know! Let's race from London's Marble Arch to the Arc de Triomphe in Paris!"
Seriously: a 467 km race that has participants running from London to Dover, swimming the English Channel to Calais, and then biking to Paris. And if you go on the website for this event, you'll see a notice saying "due to demand there is a selection process…" That's right: people are demanding to run this race!!
The book is filled with tons of inspirational pictures of people running ultra-marathons in exotic locales (Patagonia, the Gobi Desert, the South Pole), and participating in adventure races such as The Red Bull X-Alps, which requires racers to paraglide, run, and mountain climb their way from Salzburg to Monaco. There is also the 4132 km Trans Europe Footrace, or, my particular favourite, the Ö till Ö which is Swedish for "island to island," and involves swimming and running: swimming in your running shoes and running in your wetsuit in order to race along the length of a 64 km archipelago.
I love books that allow me to be secure in the knowledge of my own sanity, while safely questioning others.'
This book gives me the feeling that anything is possible if I just endure, and is perfect for a Monday morning.
While The World's Greatest Endurance Challenges is a fantasy book filled with people with super-human-strength (or maybe just super-crazy-people), Margaret Webb's "Older Faster Stronger" is more for us mortals.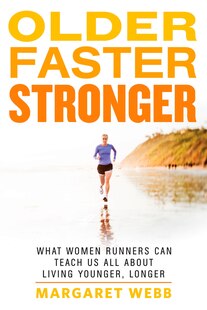 Subtitled "what women runners can teach us all about living younger, longer," this book is also filled with great feats of endurance, but the difference is that the women Webb writes about are all in their late forties, fifties and beyond. And by beyond, I mean, people like Olga Kotelko, who was a track star right into her nineties, and Betty Jean McHugh who, at 88, continues to set running records. (And, inspirational side note, she didn't start running until she was 50.)
Webb's book is less about the shock value of unbelievable races, and more about showing that physical fitness, and running in particular, can continue throughout your life. She talks a lot about the science behind athleticism, but she mixes it with stories of her own experience and that of other women who are living long and healthy lives by staying active.
It's almost enough to get me off the couch.
Reading these books will either leave you exhausted or invigorated, but they'll also leave you inspired. While I won't be heading to Antarctic any time soon, I now have the push I need to get outside for half an hour. If BJ McHugh can run the Honolulu Marathon in six and half hours, the least I can do is walk around the block.